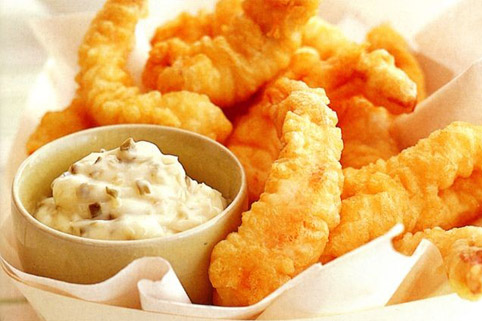 0.25 Prep / 0.40 Cook / 4 Serves
Ingredients
• 1 cup self-raising flour
• 1/2 cup milk
• 1/2 cup water
• 1 egg yolk
• 500g frozen chips
• oil for deep-frying
• 1/2 cup plain flour
• 300g boneless fish fillets, cut into strips
• 8 green prawns, peeled and deveined
• 4 scallops, trimmed
• 4 calamari rings
• 300ml bottle McCormick Simply Seafood Tartare Sauce
Method
Step 1.
Sift flour into a large bowl. Gradually whisk in combined milk, water and yolk until smooth and the consistency of pouring cream. Set batter aside for 15 minutes.
Step 2.
Arrange chips on a baking paper-lined baking tray. Bake according to packet directions.
Step 3.
Heat oil until a piece of bread sizzles as soon as it is added. Dust seafood in flour, a few pieces at a time. Dip into batter, draining off excess.
Step 4.
Deep-fry fish fillets for 1 to 3 minutes until golden and cooked through. Drain on kitchen paper. Keep warm. Continue with remaining ingredients. Serve with a generous serving of tartare sauce.

Publication: Super Food Ideas