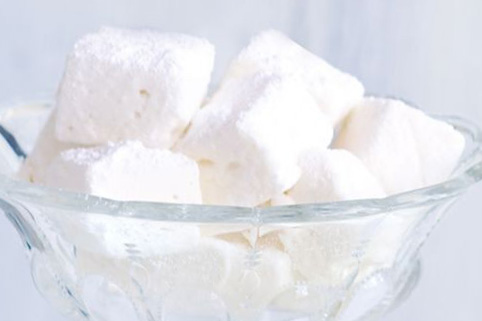 0.05 Prep / 2.45 Cook / 24 Servings
Ingredients
• 1/2 cup (75g) icing sugar, sifted
• 500g caster sugar
• 1 tablespoon liquid glucose (see note)
• 2 tablespoons gelatine powder
• 2 eggwhites
• 2 teaspoons vanilla extract
• 1/2 cup (75g) cornflour
Method
Step 1.
Grease and line a 18cm x 25cm x 4cm lamington pan. Dust inside of pan with 2 tablespoons icing sugar. Combine the caster sugar, liquid glucose and 200ml water in a saucepan over low heat, stirring, until the sugar dissolves. Bring to the boil and cook over medium heat for about 3-5 minutes until a sugar thermometer reaches 120°C.
Step 2.
In a hot pan or flat grill over medium heat, brush butter over cooking surface and pour 1/4 cup Place 200ml cold water in a small bowl. Sprinkle over the powdered gelatine, then stand for 10 minutes. Place the bowl in a saucepan of simmering water and stir until completely clear. Stir the gelatine mixture into the sugar syrup.
Step 3.
Beat eggwhites with electric beaters until stiff peaks form. Continue to beat while you gradually add the sugar syrup, then beat for a further 10 minutes until mixture thickens and becomes glossy. Fold in the vanilla and pour the mixture into the pan. Chill for 1 hour until firm.
Step 4.
Combine the remaining icing sugar and cornflour in a bowl, then spread over a tray. Cut marshmallow into about 24 squares and roll each in sugar mixture. Stand for 1 hour to dry. Store in an airtight container. Marshmallows are best eaten within a day.
Author: Valli Little Image credit: Ben Dearnley Publication: Taste.com.au